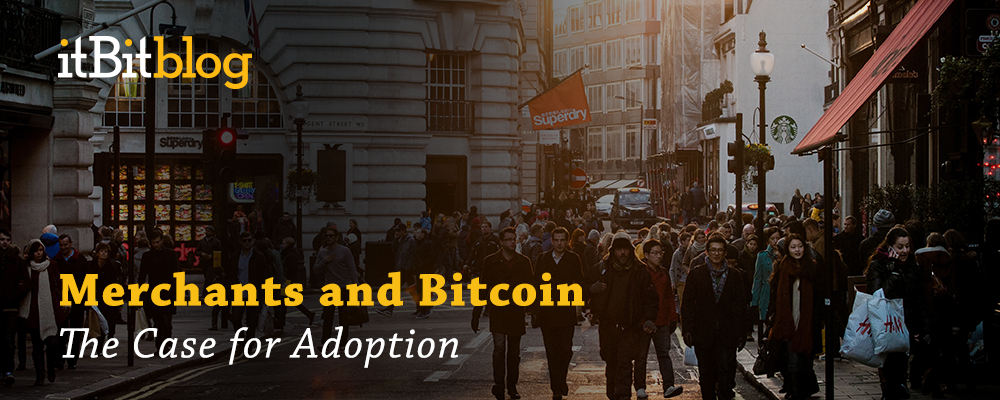 Bitcoin continues to see increased adoption as a means of payment for goods and services. The third quarter of 2014 saw a particularly strong uptick in merchant acceptance for the world's most popular digital currency. Per Coindesk's excellent State of Bitcoin Q3 2014, over 75,000 merchants worldwide now accept bitcoin, up 19% from last quarter. Projections indicate that this number will grow to over 90,000 merchants by the end of the year.
These merchants aren't just small businesses either. Companies representing over $85bn in annual revenue now accept the digital currency. That figure grew nearly 200% from last quarter as several big name retailers recently joined the bitcoin movement, headlined by Dell.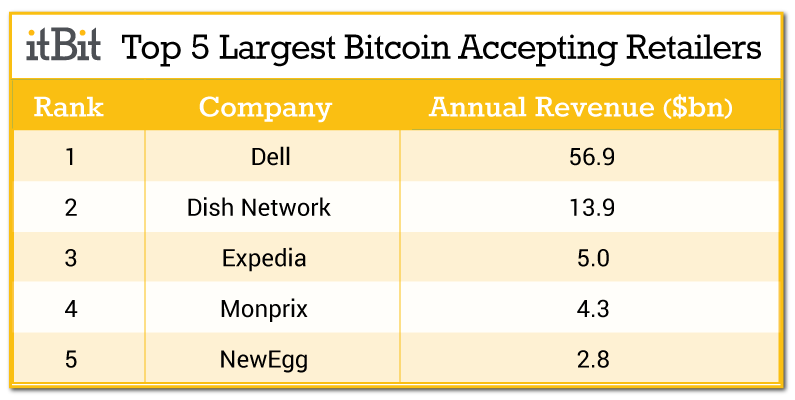 Source: Coindesk
As the pace of innovation quickens and competition in the global marketplace grows, merchants must explore the possibility of accepting payment in bitcoin and make an informed decision whether it is a good fit for their business. Below, we examine the payment solutions currently offered by the traditional banking system and build the case for bitcoin adoption.
Surveying the Traditional Payment Landscape
Cash and Checks
Cash is convenient for merchants as payment is immediate and certain. However, physical cash is susceptible to theft, doesn't work online and is increasingly eschewed by customers. Personal cheques require a level of trust in the customer and take significant time to process. They have become nearly obsolete for merchant transactions.
Cards
Credit and debit cards are the dominant form of purchase today because they are fast, cashless and conventionally thought of as secure. The primary disadvantage of credit cards for merchants is the 2-5% fees they must pay. For an average business operating on a 10% profit margin, credit card fees can put a significant dent in their revenue.
Consumer preferences for cashless transactions and competition force merchants to accept credit cards. However, consumer trust in credit card security is eroding. A June 2014 Gallup poll taken in the United States showed that over the past year, 37% of Americans reported that their trust in companies to keep their personal information secure had decreased either a little or lot. Only 10% of the individuals polled indicated their trust had increased over the past year.
The decay in consumer confidence in card payments can be attributed in part to the string of high profile hacking incidents including U.S. mega-retailers Target and Home Depot and the second largest bank in the United States, JP Morgan. In these attacks, tens of millions of credit card numbers and important financial information was stolen. The growing frequency of these large-scale hacking incidents have left consumers questioning the security of their personal and financial information.
The Case for Bitcoin
Private
A key advantage of bitcoin use from both a consumer and merchant perspective is that the customer's personal information is not needed to complete the transaction. Keeping this sensitive information out of the transaction means personally identifying data can never be stolen from business records in case of a data breach.
Final
Unlike credit card transactions, bitcoin transactions are settled almost immediately. This means that the merchant is in control of the bitcoin payment right away and doesn't have to wait for a third-party to send funds, reducing working capital issues.
Irrevocable
Chargebacks, where a credit card provider holds or takes back funds from a merchant due to a dispute, are not an issue with bitcoin. Given that the vast majority of fraud occurs due to customers using stolen credit cards (rather than merchants not delivering goods), this is beneficial to the merchant.
Cheap
The low fees for bitcoin transactions (around 1% if an intermediary is used) are a clear advantage compared to credit cards. This is especially true for small business owners with tighter profit margins. The absence of excessive transaction and exchange rate fees also gives merchants the opportunity to grow their consumer base and reach internationally in a cost-effective manner.
Global
Bitcoin opens up global trade and enables merchants in one corner of the globe to accept payments from customers in another. Neither the merchant nor the customer need to have bank accounts, and the excessive fees typically paid to intermediaries in our traditional banking network are removed from the transaction process. Bitcoin removes long-standing barriers, enabling the Internet to fulfill its potential as a medium of unrestricted global e-commerce.
Easy to Accept
The actual process of accepting Bitcoin from customers is simple and streamlined. One option is to accept bitcoins as a P2P transaction, whereby the coins are sent from a customer's bitcoin wallet directly to the merchant's wallet. This method may appeal to small e-retailers and vendors who typically prefer cash sales. For businesses who prefer to outsource the handling of bitcoin, there are many point of sale platforms being offered today that allow merchants to easily accept bitcoin payments.
The two bitcoin payment processors of choice for merchants are Bitpay and Coinbase with 40,000 and 35,000 customers, respectively.
Final Thought for Merchants
With low fees, instantaneous transaction speeds, global reach and a greater level of privacy and security through the anonymous, trustless nature of the blockchain, Bitcoin solves many of the key problems presented by our traditional payment system. Demand for cashless transactions is only going to grow over time, positioning bitcoin and digital currencies nicely for greater mainstream acceptance. As is typical in business, early adopters will stand to reap the greatest rewards in the long run.