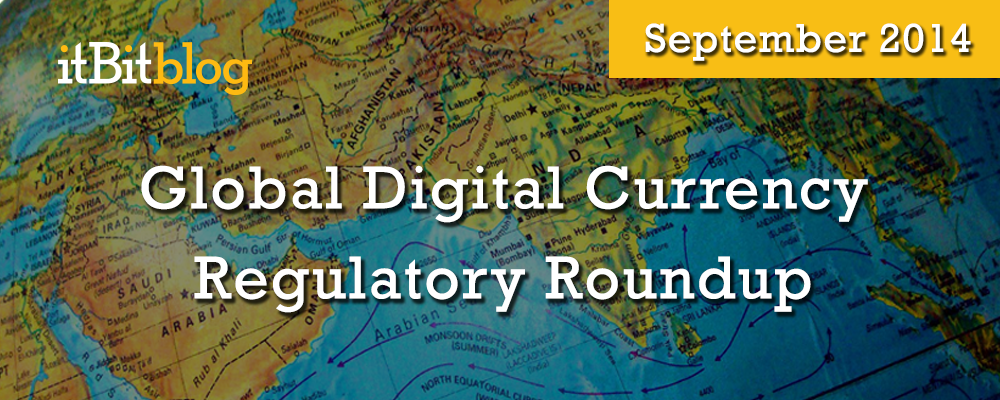 Every month, itBit scours the globe to bring you the latest in digital currency regulation and compliance news. Below, our Chief Compliance Officer, Erik Wilgenhof Plante, highlights the key regulations and legislation impacting retail and institutional digital currency investors around the world in the month of September.
Spain
Bitcoin is an Electronic Payment System, Not Legal Tender
The Spanish government ruled that bitcoin is not legal tender or electronic money and that it should instead be classified as an electronic payment system. El Ministerio de Hacienda y Administraciones Publicas, which regulates taxation and finance in Spain, additionally clarified that gambling sites located in Spain that accept only bitcoin must adhere to regulations requiring they obtain a general gambling license.
Clarifications Opening Doors: The ruling indicates that Spain is moving toward treating digital currencies as a form of payment, rather than an asset.
England
BOE: Digital Currencies Not a Threat to Financial Stability, Hold Promise
The Bank of England recently released a thoroughly researched report on digital currencies, in which they found that digital currencies "do not currently pose a material risk to monetary or financial stability in the United Kingdom," and will not do so unless they grow significantly. The Bank, however, finds this level of growth unlikely in the near future.
Promising developments: The report went on to indicate that the decentralized nature of bitcoin and other digital currencies makes it far more intriguing in the future due to its potential usefulness as a "decentralized ledger" for existing financial systems.
Bangladesh
Jail Time for Buying, Selling and Trading Digital Currencies
The Bangladesh Bank, the central bank of Bangladesh, issued an order warning the country's citizens against buying, selling or trading digital currencies. The Bank took it even further, stating that people caught using bitcoin in the country could be jailed for up to twelve years under its anti-money laundering laws, citing the fact that "bitcoin is not a legal tender of any country."
Government Crackdown Breeds Uncertainty: Though the full ramifications remain to be seen, in light of the uncertainty, the Bitcoin Foundation Bangladesh has suspended its operations.
Australia
Understanding the Economic Impact of Digital Currencies
The Australian Senate announced that its Economics References Committee will hold an inquiry to examine the potential economic impact of bitcoin and digital currencies across various industries. The Senate intends to present its findings to parliament in March 2015.
Setting the Stage: The sentiment behind the inquiry is that Australia would like to provide a definitive framework for regulating and taxing digital currency so that the country can be at the forefront of the industry.
United States
First Regulated Bitcoin Derivatives Platform in U.S. Launches
The first regulated platform for bitcoin derivatives was launched this month, along with a bitcoin spot price index. New Jersey-based TeraExchange is currently the only regulated bitcoin swap contract in the U.S. A TeraExchange affiliate first launched as an unregulated exchange back in March. According to a press release, the company then worked with the Commodity Futures Trading Commission (CFTC) to bring the exchange's swap and index into compliance with all requirements for regulation.
CEO and co-founder Christian Martin believes that creating a proprietary benchmark bitcoin index was integral in gaining CFTC's approval. The price index utilizes a "dynamic algorithm that compiles and filters data on a real-time basis" from various bitcoin exchanges worldwide. CFTC regulations require these exchanges to have an information sharing agreement with TeraExchange, which then serves as the index administrator and calculation agent. President and co-founder Leonard Nuara noted that the CFTC has been cautious but receptive to regulating bitcoin swaps as long as regulatory requirements are met.
Getting in Front of the Issues: The CFTC is being proactive with its approach, announcing that it will meet October 9, 2014 to discuss its jurisdiction over bitcoin futures. There will be two panels, both open to the public. The first panel will cover "whether a clearing mandate is appropriate for Non-Deliverable Forwards" and how any action would impact foreign exchange contracts. The second panel will discuss the Commission's jurisdiction with respect to derivatives contracts that reference bitcoin.