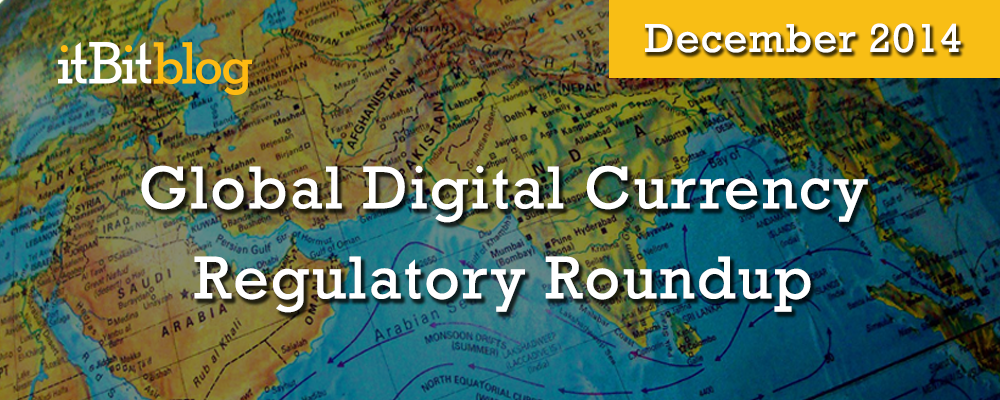 December was a busy month for digital currency regulation in the United States as Congress and a number of states were actively involved in creating and passing legislation. Outside of the U.S., the regulatory climate improved for bitcoin exchanges in Australia while the hardline stances taken by India and Russia towards digital currency thawed a bit.
United States
Feds Get Involved in Digital Currency Regulation
A new bill has been submitted to Congress by US Representative Steve Stockman regarding digital currencies. HR 5777 proposes holding off on enacting any statutory restrictions or regulations regarding digital currencies for a five-year period beginning June 15, 2015. The bill also proposes changing the taxation of bitcoin mining to apply at the point of conversion rather than at the point of creation.
Other Federal Involvement: While the Commodity Futures Trading Commission does not have specific policies or procedures that apply to digital currencies, Timothy Massad, its chairman, recently testified before a US Senate committee and stated that digital currency derivatives fall within his agency's jurisdiction. Massad noted that the agency's broad definition of "commodity" could apply to derivatives linked to currencies.

Framework for State Regulation
On the state side of things, the Conference of State Bank Supervisors (CSBS) developed a Draft Model Regulatory Framework to support consistent state regulation of digital currency activities. They have requested feedback to help inform state regulators as the CSBS works to develop a regulatory structure for digital currencies. Comments will be accepted until February 16, 2015. Comprehensive Framework: The Draft Framework includes, among other things, licensing requirements, cyber security requirements and consumer protection guidelines.
California Officially Makes Digital Currency Use Legal
A new finance bill was ratified in the state of California stating that other national and digital currencies can now legally be used in the state. Previously, only US dollars were officially recognized in California.
Further Developments: Earlier in December, the Department of Business Oversight spoke about their work toward determining whether the bitcoin industry should be regulated by the state. The Department had previously determined that it did in fact have the power to regulate digital currencies.
Latest Round of BitLicense Revisions Announced
In New York, State Department of Financial Services superintendant Benjamin Lawsky recently announced the latest round of revisions to the Department's proposed BitLicense language. The new version of the regulation includes a shorter record-keeping requirement period and requires less in the way of data collection from licensees. Once the full revisions are completed and posted, there will be another 30-day comment period.
No Sales Tax: Meanwhile, the state's Department of Taxation and Finance recently announced that though certain taxes and fees would apply, digital currency transactions will not be subject to sales taxes.
Australia
Digital Currencies Are Not a Financial Product
The Australian Securities and Investment Commission (ASIC) released a report this month. In it, ASIC determined that bitcoin and other digital currencies do not fall within the current definition of financial product. As a result, bitcoin exchanges do not need to maintain any license.
Full Statement Still Forthcoming: The Australian Senate plans to release a full report of their findings in March 2015.
Brazil
Report Examines Potential Impact of Digital Currencies
The Federal Senate of Brazil commissioned a study to determine what the potential impact of digital currencies on the Brazilian economy. The 18-page report was authored by Cesar Rodrigues van der Laan, a researcher at Banco Central do Brasil, and concludes that currently there is no need for Brazil to regulate bitcoin.
Looking Toward the States: It is also recommended in the report that should digital currency usage spread in Brazil, United States policies with regard to bitcoin taxation should be used to develop a regulatory solution.
Russia
Response to Russian Bitcoin and Digital Currency Ban
The Russian Ministry of Finance previously announced plans to ban bitcoin and other digital currencies, then announced reductions in fines for ignoring those bans. The Russian Ministry of Economic Development responded this month by stating its belief that the ban could have a negative impact on the Russian economy.
Unintended Consequences: Specifically, as the law has been drafted, retailers, telecom operators and banks may find some of their current marketing campaigns caught in the crossfire.
India
Digital Currency Adoption Inevitable in India
Raghuram Rajan, Governor of the Reserve Bank of India, gave a television interview in which he discussed digital currencies, and his belief that India will inevitably adopt digital currencies in the future.
Future Regulations: There is some speculation that India may be exploring options for a system where people could use bitcoin through a government approved intermediary.
Estonia
Estonia Reaffirms Position on VAT
As part of an ongoing bitcoin tax case before the European Court of Justice, Estonia reaffirmed its position that Value Added Tax (VAT) should be applied to the full amount of bitcoin trades rather than just to the commission or service fees.
Court Ruling Imminent: The Court will determine whether or not VAT is applicable to bitcoin under the European Union's VAT directive, which outlines which transactions should be subject to VAT. The Swedish tax authority has taken the position that bitcoin is not VAT exempt.
---
About itBit's Global Digital Currency Regulatory Roundup Series
Every month, itBit scours the globe to bring you the latest in digital currency regulation and compliance news. Our Chief Compliance Officer, Erik Wilgenhof Plante, highlights key regulations and legislation impacting retail and institutional digital currency investors around the world. Click the button below to read our past Global Digital Currency Regulatory Roundup articles!