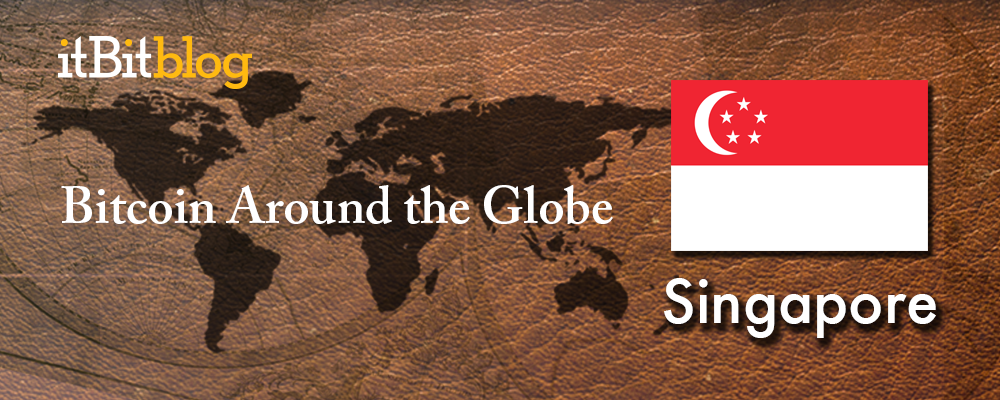 In 2014 there were major advancements in the use, regulation and development of bitcoin and related technologies worldwide. In Asia, Singapore played a particularly significant role in this progress, and its citizens and businesses continue to be in the vanguard of the digital currency industry. Bitcoin in Singapore has benefited from a combination of community enthusiasm, entrepreneurial innovation, and regulatory restraint.
It all started in December 2013, when the Monetary Authority of Singapore (MAS), the country's central bank and financial regulator, suggested in an email to Coin of Sale, a brick-and-mortar point of sale software provider, that it would not regulate the acceptance of bitcoin by businesses. MAS called participation in such transactions a commercial decision in which the Authority should not intervene. Then in January, the Inland Revenue Authority of Singapore (IRAS) became one of the first regulatory bodies in the world to make a determination on how digital currencies should be taxed. The IRAS ruled that individuals who made money through bitcoin investments, would be taxed at the current zero percent capital gains tax rate. Digital currency transactions involving real money or services, such as buying and selling bitcoins with dollars or paying for services with bitcoins, would qualify for GST (Goods & Services Tax), but there would be no such tax on "virtual world" transactions (e.g. in-game currencies).
In March, Singapore became one of the first countries to take an official regulatory stance on digital currencies. MAS announced its plans to regulate digital currency intermediaries operating in Singapore in order to ward off money laundering schemes or terrorism financing that leveraged the anonymity of digital currencies, and indicated that intermediaries who bought, sold or facilitated the exchange of digital currencies for other currencies would be required to verify customers' identities as well as to report any suspicious transactions to the Suspicious Transaction Reporting Office. However, MAS did not consider bitcoin or other digital currencies to be securities or legal tender, and as such bitcoin avoided regulation under Singapore's Securities and Futures Act or Financial Advisers Act.
Regulatory clarity has propelled Singapore to the forefront of the digital currency industry. Temasek Holdings, a government-owned Singapore investment company, even ran a bitcoin experiment, wherein four hundred employees at the company, "from driver to board member," learned how to use digital currency for charitable donations. As a result of this commitment to innovation, other venture capitalists from across the globe have taken notice.
My company, itBit, raised a total of $5.5m in funding in 2013. In March, GoCoin (incorporated in Singapore), a payments processor that facilitates online businesses to accept bitcoin, litecoin and dogecoin, closed a $1.5 million Series A financing round. BitX, which provides bitcoin products and services including wallets, exchanges, merchant integration and APIs to consumers, businesses and developers, announced in August it had raised USD $800,000 in seed funding from investors in New York, Palo Alto and London. That same month, Boost VC, a Silicon Valley bitcoin accelerator company, announced it had selected Singapore-based bitcoin exchange and wallet service CoinHako as its first Asian investment, which also included a six-figure personal investment from venture capitalist Tim Draper. And two months later, Coinpip, a cryptocurrency payment gateway for international contractors and freelancers, was selected to join 500 Startups.
Other ventures might soon join those funded ranks as well. In September, CRXzone became the first Singaporean exchange to offer both bitcoin and litecoin trading in Singapore. Point of sale technology from Coin of Sale converts retail prices into bitcoin for brick and mortar stores and is being used in a number of different countries today. And Singapore now has at least eight operational bitcoin vending machines, the first of which was manufactured, installed and operated by Singapore company Tembusu Terminals. Numoni, a mobile airtime vending machine manufacturer, Bitcoin Exchange which installed the popular Lamassu bitcoin vending machine in shopping malls, and Coin Republic, which launched Singapore's first bitcoin kiosk capable of "cashing out" or disbursing banknotes in exchange for bitcoins have also entered the bitcoin ATM scene locally.
Trade associations and bitcoin educators are also thriving. In May, a group of Singaporean bitcoin businesses officially formed a trade association, the Association of Cryptocurrency Enterprises and Start-ups, Singapore (ACCESS), which aims to promote Singapore as one of the premiere bitcoin business locales in through education and dialogue with the government. Singapore Management University, as part of its commercial law program, offered a seminar in November on the regulation of digital currencies as well as a seminar series focused on the technical aspects of the cryptocurrency. And in addition to March's Coin Congress, which featured many global digital currency experts and enthusiasts, Bitcoin also made its debut at Asia's largest tech conference, Echelon, which featured a panel on Bitcoin as a disruptive technology.
Not a bad start for a country less than 2% as populous as the United States! Here's to a prosperous 2015 for digital currencies in Singapore and abroad!
This article was originally written for and appeared in Two Bit Idiot.
---
Check out itBit's Bitcoin Around the Globe Series!
itBit's Bitcoin Around the Globe series takes a look at bitcoin adoption, use and innovation in different parts of the world. In the past, we have chronicled a variety of locations from the most popular cities for bitcoin in Europe and the United States to bitcoin use and adoption in Canada and the Philippines.